Kurumi is an Archangel and also one of the judges in the tournaments. Appearing to be a young girl, she is actually about 100 years old.
Backround- 50 years ago, she discovered her Archangel powers, then trained furiously. In less then a year, she fully mastered her powers, being able to keep her mask on for about 2 days strait if not harmed. She was one a fighter, but did not enter many fights, preferring to watch. One day she opened up a training dojo which also acts as an inn. Nothing else is known about her childhood though.
Appearance- She has blonde hair and brown eyes which turn black and yellow when her mask forms. She normally wears flip flops and a red jacket and sweat pants with a loose white shirt. She keeps her sword tightly strapped to her back.
Personallity- She is a very kind and caring women, but in battle she is very fierce and yells a lot. Shes very strict with training, being somewhat insane, although she simply wishes her students to learn how to survive. Deep inside, she is very generous and accepting.
Kubikiri Orochi is the name of her katana. Once chanting "Chop Cleanly Kubiriki Orochi" her sword transforms into a large cleaver with a serrated saw like blade. The sword not only increases in cutting strength, but gains various abilities, such as being able detonate the blade by summoning explosive tags to cover it. The blade can also regenerate using the iron in blood.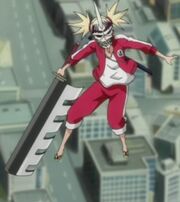 She can also tap into her demonic powers by donning her mask.
She seems to be skilled in traps and such, being able to leave explosives and hide them cleverly. She also shows a natural talent for- well in short words blowing stuff up XD
Quotes-
"WHEN LIFE GIVES AN ACHIEVING WOMEN FIGHTER LEMONS- SHE SQUEEZES THEM RIGHT BACK IN LIFES EYES!!!!!!!!!!"